Daybetter LED light strips have three control methods, namely infrared control, Bluetooth control and Tuya Smart Wi-Fi control. Bluetooth and tuya-controlled LED strips can be controlled using different apps.You can remotely control your led tape lights by your smartphone APP. You can also easily change brightness, color, mode, speed and as much as 16 colors. Compatible with all kinds of smart-phone, Android/IOS. The remote distance reaches 10 meter. Just scan the QR code and download the app, which is great simple and easy for operation.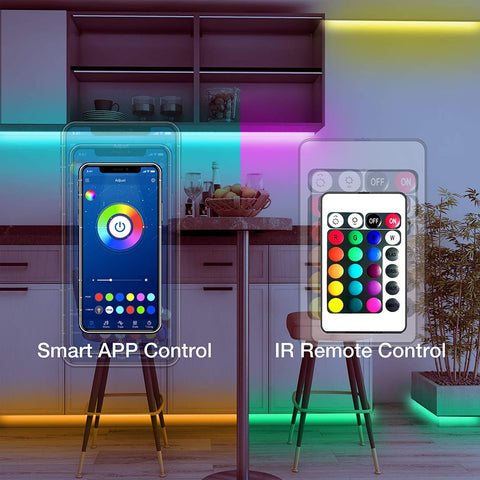 About daybetter's Tuya Wi-Fi control light strip.
Download the "Tuya Smart" APP, you can control the smart Wi-Fi led strip lights anywhere with your mobile phone ; Nomatter you are working in the office or on vacation; Also you can use group function to create a group for multiple led strips, and then activate them all with one click (2.4GHz Wi-Fi only)
You can schedule the smart led strip automatically switch on/off via your phone app; And you also can set a countdown timer; Set the wifi led lights turn on or off at a specific time; Turn all lights on the moment you back home, turn all lights off when you are away from home.
Daybetter Wi-Fi led strip lights can change color and sync with music. It have multi-music mode, which will change to follow the rhythm or the melody; This music light strip can even respond to your voice which make the light "dance" to the beat.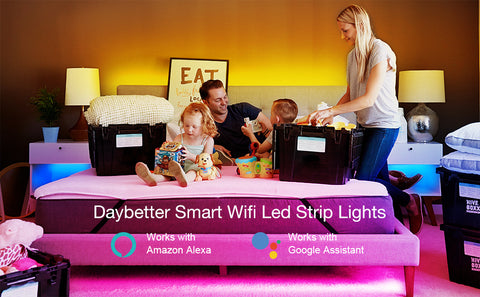 If you choose a light strip that supports Alexa and Google Assistant,yes, we have a product with this function.This smart strip lights can work with Alexa and Google home assistant; You can easily turn on/off the light, change the light color, dim the brightness with a simple voice command; No hub required easy to install and no need subscription.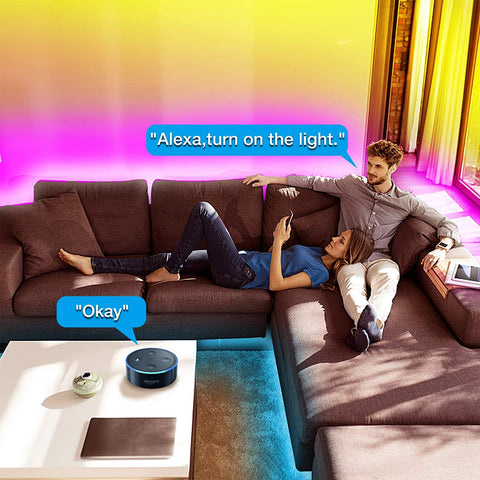 About Daybetter's Bluetooth control light strip
Download the "Apollo Lighting" APP, bluetooth is connection control. Connect the LED light strip to your phone through a smartphone application to control your lighting; using this application, you can control more than 16 million colors, turn on/off the lights, and use the dimmer function Set your mood, or choose your favorite color effect, DIY lighting is at your fingertips.
Also,bluetooth control led lights for room has timing/countdown function, you can set the time and let the led strip lights for bedroom automatically turn on and off; turning on the music mode, led strips will change colors sync to music, bringing party effects.
note: use music mode, please make sure you have downloaded music in mp3 format to your playlist, ios user please download mp3 format music from your computer iTunes account then sync the music to your phone.
How to connect with Apollo App
Step 1: Please enter your phone settings,open the blue tooth.
Step 2: Open the"Apollo Lighting" app,The app will connect the LED light automatically.
Step 3: Touch the onloff key, start controlling the led strip light.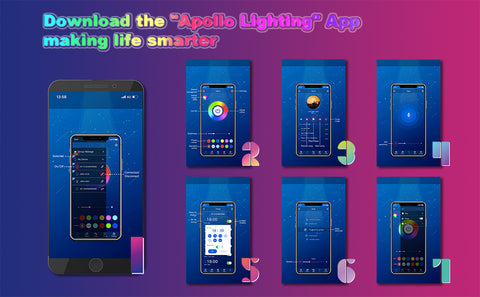 How to initialize the strip light device?
1、Power on
2、Hold the "ON" button on remote until the lights start flashing (about 5 seconds)